Skip to content
Everyone dreams about growing up and owning their own home. It's that feeling that you've achieved something in your life, that you've finally made it. The problem is, over the last few years owning a home has become more and more difficult. Rising interest rates, stricter mortgage qualifications rules and disproportionate wages to housing prices have all added to this.
Government of Canada announced a new incentive to make owning your first home a little more attainable. While more details are being released about this incentive each day, here is what we know:
What is it?
The Incentive is a shared equity mortgage with the Government of Canada to help homebuyers to reduce their monthly mortgage payment without having to increase the amount of money they put towards their down payment. Here are some notes to keep in mind:
The Government will offer 5% of the total cost of a resale home, and 5% or 10% for the purchase of a new construction home.
The incentive doesn't bear any interest
Ongoing repayments is not required
The homeowner has 25 years to pay back the government or when they sell their home, whichever comes first
If the value of the home increase, the amount of repayment will proportionately increase based on percentage of incentive used
If the value of the home decreases, the amount of repayment will also proportionately decrease
The home must be located within Canada and be occupied year-round
Who is eligible?
You must be either a Canadian citizen, permanent resident, or non-permanent resident with a Canadian work visa
Your qualifying income cannot be more than $120,000 a year and is subject to the qualifying requirements set up by lenders and mortgage loan insurers
You must be able to qualify for a mortgage through your lender and have a minimum of 5% down payment
At least one of the borrowers must be a first-time buyer, which is defined by meeting one of the criteria below:

Have never purchased a home in Canada
Have gone through a breakdown of a marriage or common-law relationship
Have not occupied a home that you or your current partner owned in the last 4 years
When does it take into effect?
Barring any unforeseen circumstance that may arise, the program is expected to take into effect on September 2, 2019. If a homebuyer is approved for the incentive, the home must close on or after November 1, 2019. The incentive will not apply to homes closed prior to the start of the program.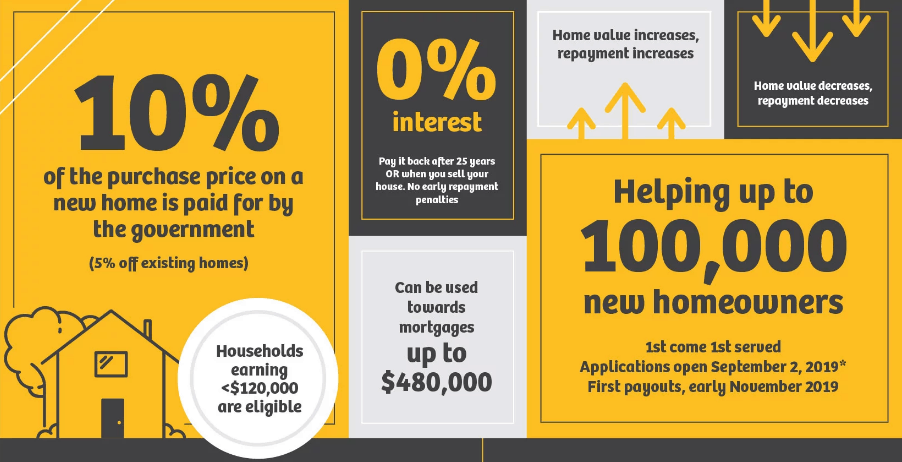 What does it mean for you?
Homebuyers who qualify for this mortgage will see savings in their monthly mortgage payments, making homeownership of your magazine-worthy designer Rohit home even more attainable than ever before. Rohit designer homes are eligible for up to 10% of the new home incentive!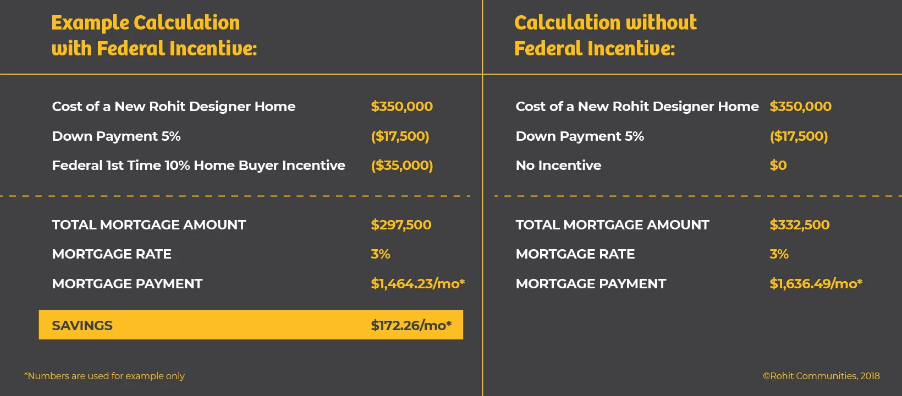 More details are coming out daily, please refer to the Government of Canada's First-Time Home Buyer Incentive website for updated program details, eligibility, and requirements, and our Federal Mortgage Incentive for First-Time Homebuyers overview as we continue to track developments on the Program.