Skip to content
September 2, the projected launch of the federal government's First Time Homebuyer Incentive, is fast approaching! Many who are currently in the midst of their home search have been eagerly awaiting this date and keeping a close eye on additional information that is still coming out from the Government of Canada.
A couple of months back we wrote a blog highlighting the most important pieces of these incentive. There have been some updates and clarification that have come out since.
Eligibility & Qualification:
The eligibility rules noted in the previous blog still hold true with some additional notes:
A minimum down payment of 5% is required, and must come from traditional sources (savings, RRSP, non-repayable financial gift from a relative). Unsecured personal loans and unsecured lines of credit are not eligible.

For 3-4 unit homes (i.e. townhomes), the minimum down payment is 10%

The qualifying income cannot exceed $120,000. This number is based on anyone whose name is on the mortgage, whether you're applying by yourself, with a friend, a spouse, or have a co-signer. Qualifying income from your annual gross salary, investment income and any rental income you may have. This does not include the down payment.
The total borrowing is limited to 4 times the qualifying income. Total borrowing amount is the mortgage amount and incentive combined.
Mortgages must be eligible for mortgage loan insurance through Canada Guaranty, CMHC, or Genworth. This means that the combined total of your down payment plus the incentive must be less than 20%.
Properties with more than 4 units will not be eligible for the incentive. Fortunately, most of Rohit's single family, duplex, townhomes are eligible!
Homes under the First Place Program will not be eligible for the incentive.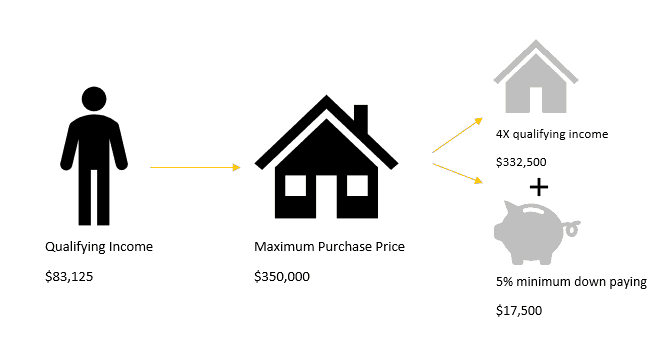 Repayment:
It was previously noted that repayment occurs after 25 years or when the home is sold, whichever comes first. Homeowners are also able to repay the incentive in full at any time without incurring a pre-payment penalty. Partial repayments will not be accepted.
The Benefit:
The incentive allows for your monthly mortgage payments to be lowered without having to increase the amount of your down payment.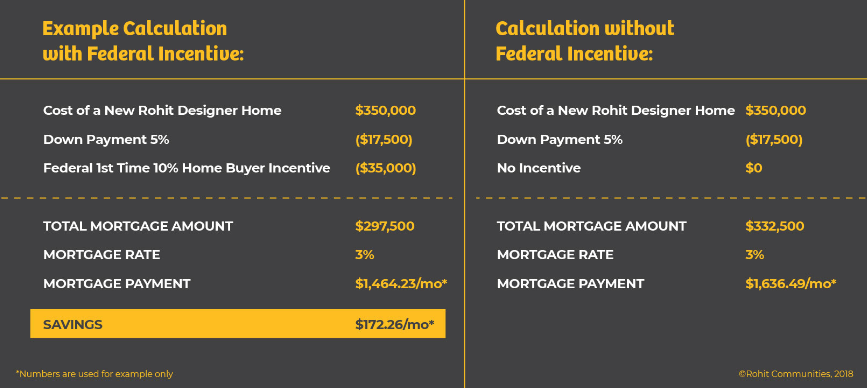 For more information, refer to the Government of Canada's First-Time Home Buyer Incentive website for updated program details, eligibility, and requirements, and our Federal Mortgage Incentive for First-Time Homebuyers overview as we continue to track developments on the Program.